Who Did the Cooking?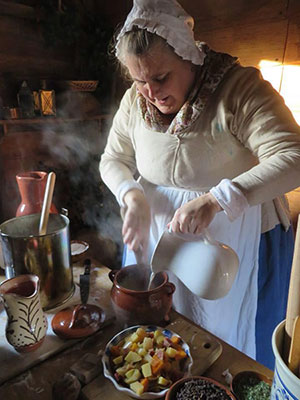 In the households of lower and middling sorts of people, women and young children prepared the foods. Boys and girls would have chores to help with food production. These chores included weeding gardens, harvesting vegetables and herbs, and grinding corn.
In the story of the Holland-Pierpoint family in Children's Lives at Colonial London Town: The Stories of Three Families, we know that young Larkin Pierpoint, at age six, had responsibilities that included grinding the corn for corn pone. His family operated a type of inn, called an ordinary. They relied on the labor of all family members in preparing meals. In wealthier households and taverns like William Brown's at London Town, servants and enslaved people did most of the food preparation and cooking. The food was then served to the family and tavern patrons in the dining rooms.
Many enslaved cooks in colonial Maryland maintained a cultural connection with West African cuisine through cooking. They also adapted African traditions creatively to the necessities and opportunities of a new culinary environment here in the colonies. Cooking could give enslaved people a measure of control over their lives. Many dishes that are today known as southern cooking were created by enslaved women who transferred the techniques and ingredients of their homelands to the kitchens of the wealthy here in America.