Colonists brought knowledge of medicinal plants with them from Europe and learned about new uses for plants from Native Americans and African Americans.
The Healing Powers of Plants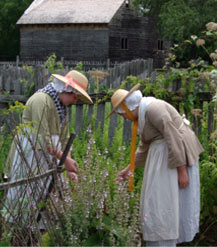 While Larkin and James weeded the garden, young Mehitable and her mother collected herbs and other plants that were made into medicines for the family and sick community members. Some of the plants would have been used to create poultices or tinctures.
The family's kitchen garden was a sort of colonial pharmacy. Valerian was used for sleeplessness, fever few for headaches and fevers, lovage for stomach aches, lemon balm to dispel sadness, tansy for sunburn, clary sage for sore throats, and calendula to prevent the infection of wounds.