A Place For News and Tales From Abroad
The ordinary was an interesting place to be during evening meals, as ferry travelers and other guests gathered around the table to share news from other towns and colonies. Some of the guests may have been members of the colonial government, the General Assembly. They discussed the latest news about laws being proposed and passed. Since London Town was a busy tobacco port, captains from visiting ships told stories about Europe, Africa, and the Caribbean islands.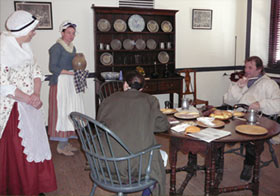 After helping their mother cook, serve, and clear the evening meal, Mehitable's children could hear these tales of far-off people and places. The children then washed the dishes, tended the fire, and prepared for bed by unrolling the bed ticks. At the end of their long day, the exhausted children would have fallen into their shared bed, resting in order to prepare for the next day.

Young Mehitable and her brothers eventually married and moved away from London Town. By the 1730s, London Town was a thriving, bustling port that rivaled nearby Annapolis. The economic activity and prosperity might have influenced Richard Hill and his family to move to the area.