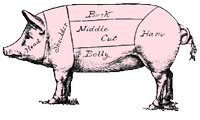 Egg and Bacon Pie to eat Cold
Steep a few thin slices of bacon all night in water to take out the salt, lay your bacon in the dish, beat eight eggs, with a pint of thick cream, put in a little pepper and salt, and pour it on the bacon, lay over it a good cold paste, bake it a day before you want it in a moderate oven.
From Hannah Glasse, The Art of Cookery, Made Plain and Easy, 1774
Egg and Bacon Quiche
4 eggs
8 slices cooked bacon
1 cup cream
¼ teaspoon each of salt and pepper
Store bought pie crust
Preheat oven at 400 degrees. Lay pie crust in a 9 inch pie pan. Place the bacon on top of the pie crust. In a mixing bowl, mix eggs, cream, and a pinch of salt and pepper thoroughly. Pour the egg mixture over the bacon. Bake for 15 minutes, then turn the heat down to 350 degrees and continue baking for 35 more minutes. You can serve the quiche either warm or allow it to cool and serve cold.