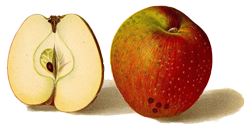 To Stew Apples
Pare them, slice them, and stew them with equal Quantity of Water and Claret, enough to cover them, when they are tender, put a stick of Cinnamon and a few Cloves, when they are almost enough, sweeten them with Sugar, and mash them to Pap, put in sweet butter, and serve them.
From R. Dodsley, Adam's Luxury, and Eve's Cookery, 1744
Stewed Apples (modern)
4 large apples peeled, cored and sliced
1 cup water
1 cup apple juice
1 teaspoon ground cinnamon
¼ teaspoon ground cloves
Place all ingredients in a pan and bring to a boil. Reduce the heat to medium, cover the pot and allow to cook until the apples are tender. Remove from heat and mash the apples. Serve warm with a dollop of butter and sugar if desired.