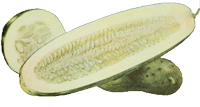 Pickle Cucumbers in Slices
Slice your Cucumbers pretty thick, and to a dozen of Cucumbers slice in two or three good onions, and strew on them a large handful of salt, and let them lie in their liquor twenty-four hours; then drain them, and put them between two coarse cloths; then boil the best white-wine vinegar, with some cloves, mace, and Jamaica Pepper in it, and pour it scalding hot over them, as much as will cover'em all over; when they are cold, cover them up with leather, and kept them for use.
From E. Smith, The Compleat Housewife: or, Accomplished Gentlewoman's Companion, 1739
Sliced Pickles (modern)
12 cucumbers sliced about 1 inch thick
2-3 onions
½ cup salt
4 cups white wine vinegar
12 whole cloves
2 tablespoons of blade mace
24 whole Jamaica peppers (allspice)
Large pickle crock or quart canning jars if preserving for future use
Place cucumbers and onion in a large bowl and sprinkle salt over the contents until all are covered. Refrigerate for 24 hours, then rinse all slightly before canning.
In a stew pot, add vinegar, cloves, mace and Jamaica peppers and bring to a boil. Once boiling, remove from the heat. If planning to serve within a week, you can place the cucumbers and onions in a crock and cover with the hot vinegar mixture. Allow to cool at least 24 hours before eating.
If preserving, place some cucumbers and some onions in several jars, then pour enough of the hot vinegar mixture to cover, and then seal the jars closed with lids. Follow the directions that came with your canning jars to preserve. These pickles should last for at least several months.