Recipes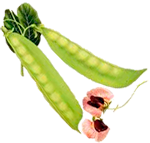 Pease Soup
Boil a Hough of Beef, with a Pound and a Half of Pease, till they are all dissolved, then strain it and put in it whole onions and spice, salt it to your Taste, brown some Butter and Flour and mix with it: You may put boil'd Sellery cut in Dice in it, if you please.
From Elizabeth Cleland, A New and Easy Method of Cookery, 1755
Pea Soup (modern)
1 quart dried green peas
3 quarts of water
3 onions
4 oz. butter rolled in flour
Pinch of both pepper and salt
Salt pork or bacon
1 teaspoon of powdered celery seed
Toast
Put peas, onions, salt, and pepper into the water and boil for 2 hours. Once the peas are soft, mash all together until there are no longer any lumps. Add the butter, the pork/bacon, and the celery seed. Allow to simmer until the bacon is cooked. When serving the soup, place the toast in the bowl first then ladle the soup over it. Serve warm.