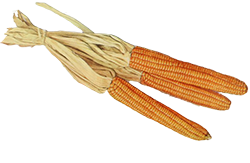 Indian Mush Cakes
Pour into a pan three pints of cold water, and stir gradually into it a quart of sifted Indian meal which has been mixed with half a pint of wheat flour, a small tea-spoonful of salt. Give it a hard stirring at the last. Have ready a hot griddle, and bake the batter immediately, in cakes about the size of a saucer. Send them to the table piled evenly, but not cut. Eat them with butter or molasses.
From Miss Leslie, Directions for cookery, In Its Various Branches, 1840
Johnny Cake or Hoe Cake
Scald 1 pint of milk and put to 3 pints of Indian meal, and half a pint of flower-bake before the fire. Or scald with milk two thirds of the Indian meal, or wet two thirds with boiling water, add salt molasses and shortening, work up with cold water pretty stiff, and bake as above.
From Amelia Simmons, American Cookery, 1796
Corn Cake (modern)
1 cup milk
1 cup corn meal
½ cup wheat flour or corn flour
In a large mixing bowl, combine all ingredients together and mix thoroughly. In a heated, well-oiled pan, place a large spoonful of the batter on the skillet and cook till the edges brown, then flip and cook the other side. Serve warm with syrup, honey, sugar or molasses.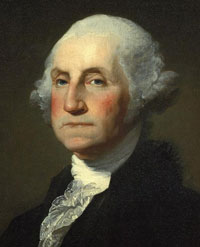 George Washington loved corn cakes
tea and cake [sic] made from maize; because of his teeth he makes slices spread with butter and honey. —Julian Niemcewica
he ate three small mush cakes swimming in butter and honey —Nelly Custis
This meal was with out change to him whose habits were regular, even to matters which others are so apt to indulge themselves in to endless variety. Indian cakes, honey, and tea, formed this temperate repast. —George Washington Parke Custis
All three quotes are found in Stephen Archie McLeod, Dining with the Washingtons: Historic Recipes, Entertainment, and Hospitality from Mount Vernon (Chapel Hill: UNC Press Books, 2011).