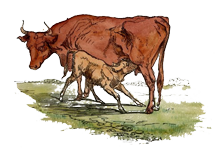 Calves-ears farced*
Calves-ears farced are commonly us'd for Intermesses; to which purpose, some entire Ears are to be well scalded or parboil'd a little: Then a good thick Farce being made, stuff the Insides of them, and sow them up neatly round about: They are to be boil'd, as Pigs-pettitoes, a la Sainte Menebout, and insow'd, when ready, but so as the Farce may not fall out. Afterwards, roll them up in Eggs lightly whipt, bread them at the same time, fry them in Lard, as it were Croquets, and garnish them with fried Parsly.
From J.K., The Court and Country Cook, 1702
Veal Rolls
Make some common Force-meat, as we have directed in the preceding Part of this Work; when this is ready cut half a Dozen thin Slices of Veal, lay some of the Force-meat upon each of the Slices of Veal, and roll them Carefully up, rolling in the Force-meat, tie them round the Middle with a coarse Thread.
When they are thus prepared put them upon a Bird Spit, and rub them over when they are spitted with Yolks of Eggs. Flour them, and lay them to the Fire, and as they roast baste them with a Piece of Butter. Half and Hour at a moderate Fire is about the Time they take doing, then serve them up with good Gravy, garnished with Lemon.
If some Truffles be stewed in the Gravy it adds to the Flavour.
From Martha Bradley, The British Housewife, Vol. II, 1756
Veal Rolls (modern)
Thin slice of veal
Fresh sausage
Egg yolks
Flour
Take a thin slice of veal and pound it flat. Take a small amount of sausage, place in the middle of the flattened veal. Roll the veal and then tie it up with string. If desired, roll the veal in the egg yolks then dredge in flour. Place on the grill and roast for 30 minutes.