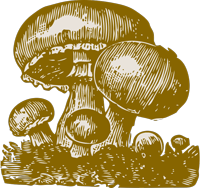 Mushrooms Stewed White
Wipe some large buttons, boil them up quickly in a little water; put to them some cream, a piece of butter mixed with a little flour, some pounded mace, a little chyan and salt; boil this up, shaking them.
From Charlotte Mason, The Lady's Assistant for Regulating and Supplying Her Table, 1777
Stewed Mushrooms (modern)
8 oz. of white button mushrooms, cleaned
1 cup water
½ cup cream
1 tablespoon of butter at room temperature, rolled in flour
¼ teaspoon mace
Pinch salt
Pinch Cayenne pepper (optional)
Take cleaned mushrooms and place in a pan with water. Bring to a boil and then reduce the heat to allow the mushrooms to cook until soft. Add the remaining ingredients and bring back to a boil and then take off the heat and serve.