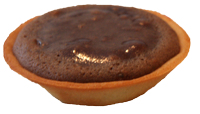 A Chocolate Tart
We take two Spoonfuls of Rice-Flour, some Salt, with the Yolks of four Eggs, and a little Milk; mix all these together, but don't let them curdle; then grate some chocolate and dry it before the Fire, and when your Cream is boiled, mix the Chocolate well in it, and so set it to cool; make your Tart of good fine Flour, put in the Cream and bake it: When it is enough, glaze it with powder Sugar with a red hot Fire-shovel; then serve it.
From T. Reed, The Whole Duty of a Woman, Or, An Infallible Guide to the Fair Sex, 1737
Chocolate Tart (modern)
1 store-bought pie shell or pie dough
2 tablespoons rice flour
Pinch salt
4 egg yolks
1 cup cream
1 cup whole milk
6 oz chocolate
4 tablespoons sugar
Powdered sugar
Preheat oven at 350 degrees. If you are using pie dough, first line a 9-inch pie pan. In a pan, place the milk, cream, sugar, salt, and chocolate and bring to a slight boil while stirring. Remove from heat once the chocolate starts to boil. In a bowl, whisk the egg yolks and flour together. Taking a spoonful at a time, slowly whisk the hot chocolate into the egg mixture. After a few spoonfuls, put the egg mixture into the chocolate and mix thoroughly. Return to a medium heat and cook until the mixture thickens, while constantly stirring. Then take the mixture and pour it into the pie shell (or on top of the pie dough). Place into the oven and cook for about 40 minutes. The tart is done when the center is set (you can prick the center with a toothpick or fork to check). If it still looks uncooked in the center, return it to the oven for several more minutes, checking frequently until the center sets. Allow to cool and then refrigerate before serving. When serving, dust each piece with a little powdered sugar.