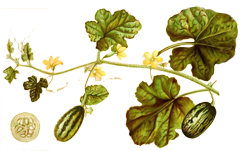 To Farce Cucumbers
Cut off one End of your Cucumbers, and then pare and core them, and prepare the following Farce for them. Take the Heart of some Cabbage Lettuce stew'd tender in Salt and Water, drain them, and put to them some Onions, a little Parsley that has been boiled tender, a Mushroom pickled, Pepper, Salt, and fat Bacon; Chop all together very fine, with the Yolk of one or two Eggs, according to the Quantity. Then stuff your Cucumbers, and tie up the ends that were cut off with Packthread, and stew them till they are tender in Salt and Water; then drain them, flower them, and fry them brown in Hog's Lard, and drain them again; the untie them, lay them in your Dish, and pour over them the following Sauce; viz. Take Gravy well season'd, and as much Claret; boil them together with some Lemon-Peel, and All-spice, thicken'd with burnt Butter.
From R. Dodsley, Adam's Luxury, and Eve's Cookery, 1744
Farced Cucumbers (modern)
4 large cucumbers, peeled, one end cut off and the seeds scooped out
¼ heat of a small cabbage, sliced
2 button mushrooms
2 onions, sliced
¼ cup chopped parsley
Salt and pepper
2 slices bacon, chopped fine
2 egg yolks
Flour
Lard
To make the stuffing, in a stew pot, add the cabbage and mushroom. Cover with water and a teaspoon of salt, bring to a boil, and cook until soft. Drain in a fine sieve. Add the onions, parsley, bacon, yolks and a pinch or two of pepper, and chop until nice and fine. Stuff each prepared cucumbers with the stuffing mixture. Take the cut off end and tie it back onto the cucumber using a needle and cooking tread/twine. Place the four stuffed peppers back cucumbers and place them back into the stew pot and cover with water and ½ teaspoon salt. Cook over a medium high heat for about 10 minutes. Check once in a while to make sure the cucumbers do not become too soft. Remove from the water and allow to cool and drain for about 5 minutes. While cooling, place a frying pan over medium high heat and add enough lard to cover the bottom of the pan when melted. Then roll each cucumber in flour and place in the frying pan when the lard is hot. Fry cucumbers until they brown on all sides. Serve hot with gravy.